Capital raising included private investors, Family Office, hedge funds and, for the first time, Israeli institutional investment house
Seedo Corp., "Seedo" (OTCQB: SEDO), a high-tech start-up providing the world's first fully automated and controlled indoor growing machine for the cannabis and agriculture markets, announces $4 million capital raise at a price of $2.75 per share.

The raising was spearheaded by SodaStream CEO Daniel Birnbaum, who recently joined the Company's Board of Directors and is reinvesting in less than one month since his initial investment.
"We are proud to have created a precedent in attracting institutional investor, and would like to thank Daniel Birnbaum for his renewed expression of faith," said Zohar Levy, CEO and Director of Seedo. "We are currently creating a strategic mix of investors for the company, including recognized Nasdaq investors, Family office and Wall Street leaders that previously invested in SodaStream."
Seedo, which specializes in the development of automated cannabis growth technologies, is listed in OTC in the United States. The Company recently announced an agreement it signed with Kibbutz Dan for the establishment of an automated containerized growth farm for medical cannabis in Israel. The project is expected to produce 14 tons of dry cannabis bud valued at NIS 86 million. The advanced systems used for controlled growth results in quality, uniform, product that is free of bacteria and mold that currently plagues greenhouses.
About Seedo
Seedo is a market leading high-tech company providing the cannabis and agriculture industries with the world's first fully automated and controlled indoor growing machine. Seedo provides growers with the freedom to cut costs while generating high yields of lab-grade, pesticide-free herbs and vegetables. Seedo's AI-powered, turnkey systems enable anyone from average consumers to large-scale producers the ability to grow without prior experience or ample space. Seedo is a publicly traded company backed by a group of international investors including Cannabics Pharmaceuticals and is headquartered in Israel. For more information, visit http://www.seedolab.com
Disclaimer:
Certain statements contained in this release may constitute forward-looking statements within the meaning of the Private Securities Litigation Reform Act of 1995. Such statements include, but are not limited to statements identified by words such as "believes," "expects," "anticipates," "estimates," "intends," "plans," "targets," "projects" and similar expressions. The statements in this release are based upon the current beliefs and expectations of our company's management and are subject to significant risks and uncertainties. Actual results may differ from those set forth in the forward-looking statements. Numerous factors could cause or contribute to such differences, including, but not limited to, results of clinical trials and/or other studies, the challenges inherent in new product development initiatives, the effect of any competitive products, our ability to license and protect our intellectual property, our ability to raise additional capital in the future that is necessary to maintain our business, changes in government policy and/or regulation, potential litigation by or against us, any governmental review of our products or practices, as well as other risks discussed from time to time in our filings with the Securities and Exchange Commission, including, without limitation, our latest Form 10-K Report filed on Jan 15th , 2019. We undertake no duty to update any forward-looking statement or any information contained in this press release or in other public disclosures at any time.
Featured Product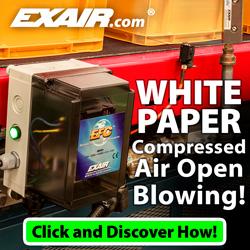 Compressed air is a limited resource that is generated in-house for the benefit of many operations within the manufacturing environment. Learn how to ensure all point of use applications are using your compressed air in the most effective and efficient way possible. Learn how much it costs to produce that compressed air and how Engineered Nozzles can help you use your air more effectively and efficiently.