Stop by Booth# 901 to see OPTIMASS Coriolis mass flowmeters
Beverly, MA: KROHNE, Inc. announces it will highlight a range of innovative flowmeters for food applications at the ProFood™ Tech 2019, which takes place March 26-28, 2019, at McCormick Place, in Chicago, IL. Stop by Booth# 901 to see KROHNE OPTIMASS Coriolis mass flowmeters in action, demonstrating continuous flow measurement, even with entrained gas and air of up to 100 percent (EGM™). Also on display will be OPTIWAVE level frequency-modulated continuous-wave (FMCW) radar level transmitters, with a live demonstration showing their use in small sanitary tanks with multiple agitators and flour silos.

The KROHNE OPTIMASS Coriolis mass flowmeters on display are ideal for all process and custody transfer applications. Measuring mass, volume flow, density and concentration of liquids and gases, OPTIMASS is available in several designs, from twin bent to single straight tube. All OPTIMASS flowmeters provide continuous flow measurement, even with entrained gas of up to 100 percent (EGM™). This makes them a great choice for dairy milk receiving, mayonnaise and shortening with up to 20 percent entrained nitrogen (N2), and ice cream overrun measurement applications.
Also on display will be KROHNE OPTIWAVE radar (FMCW) level transmitters, offering non-contact level measurement of liquids, pastes, granulates, powders, and other solids. With measuring distances up to 328 feet (100 meters), OPTIWAVE is offered with several antenna options. Operators can select the antenna most suitable for corrosive or abrasive media, high pressure or temperature, and applications with agitators. OPTIWAVE is also suitable for hazardous areas, functional safety (SIL) or hygienic applications. To be shown are OPTIWAVE 3500, the ideal level transmitter for liquids with hygienic requirements and OPTIWAVE 6500 for powders and dusty atmospheres, providing continuous, non-contact level measurement in high and narrow silos, hoppers, or containers for flour silos.
About KROHNE
KROHNE is a world-leading manufacturer and supplier of industrial process instrumentation solutions. We have 90 years of experience providing flow, level, temperature, and pressure instrumentation to all industry sectors around the globe. For more information, contact KROHNE at 1-800-FLOWING (978-535-6060 in MA); email: info@KROHNE.com, Twitter at @KROHNE_USA, or visit www.us.krohne.com.
Featured Product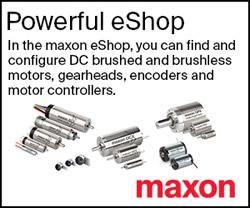 Discover the world of drive technology from a leading worldwide supplier of innovative customized drives. - Manufacturer of brushed and brushless DC motors, gearheads and motion controllers - Custom drive systems, quantities as low as a single unit - Certified for aerospace and medical applications