Patent pending under canopy lighting system pays for itself in a single harvest
Thrive Agritech, Inc., leader in LED horticulture lighting, announced today that it has developed and deployed a novel lighting system that increases cannabis production yield by more than 10%. The lighting system, referred to as under canopy lighting, is positioned below the canopy to stimulate photosynthesis in regions that are typically light-starved and dont produce usable product. By adding approximately 10-12% more light below the canopy, growers can expect at least 10% increase in yield. For example, if a grower is using a 1,000W double-ended HPS top lighting solution over a 4x4 canopy, Thrive Agritech would add about 120W of LED lighting below the canopy to optimize production yields.

According to Michael Cooper, Director of Cultivation at NV Organic Remedies, "We installed Thrive Agritechs under canopy lighting system and were amazed by the results. Instead of trimming away the lower branches, we were able to harvest and sell an additional 8 grams per square foot of high quality product. Increasing our yields has never been easier - under canopy lighting is a no brainer."
Thrive Agritech CEO, Brian Bennett, added, "Its no secret that wholesale cannabis prices are rapidly declining in many markets across North America. Our patent pending under canopy lighting solution gives growers an easy way to significantly increase profitability. In fact, the increase in profit enables our customers to pay for the under canopy lighting system after the first harvest."
For more information about under canopy lighting, visit: http://www.thriveagritech.com/undercanopy.
Thrive Agritech was founded at the Y Combinator accelerator in Silicon Valley, with a mission to enhance sustainability for controlled environment agriculture. The companys industry leading energy efficient lighting products have already made significant reductions in the carbon footprint from older lighting technologies. All Thrive Agritech products have an optimized horticulture light spectrum, high reliability, and most importantly grow great plants.
About Thrive Agritech
Thrive Agritech is a leading developer and manufacturer of innovative products for the controlled environment agriculture industry. The companys patent-pending technologies enable unique advantages for horticultural solid-state lighting and controls. Corporate headquarters are located in New York City, U.S.A. Thrive Agritechs website is: http://www.thriveagritech.com
Featured Product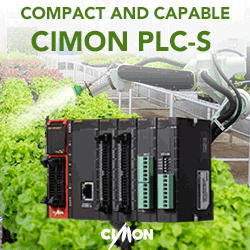 CIMON-PLC is an industrial control device based on international standards of IEC61131. It is designed for a plant site that requires industry-leading reliability. CIMON-PLC is optimized for Industry 4.0 and enhances the intelligence of industrial sites.