16 distributors added to Aqua-Yield Farmer-Dealer Network®
In a move to increase product availability and provide consistent access to both product and the company, Aqua-Yield® today announced the addition of 16 Farmer/Dealer Distributors strategically placed across the United States and in new locations around the world. The new distributors become part of the already-establish Aqua-Yield Farmer Dealer Network® The move was made as the company adds additional product offerings, moves away from larger, tote and tanker loads of product, to the amazing 2.5 gallon product containers, which easily fertilize 80 acres of land.

CEO and Co-Founder Clark Bell is excited about the expansion. "We are thrilled to make this move and excited we're able to do it this year and by mid-year. The addition of these highly-qualified distributors, both in the U-S and outside, allows us to quickly and more efficiently deliver our ever-expanding product line, while providing a more personal touch and contact to our company, our products and our network."
Aqua-Yield™ is a rapidly-growing sustainable fertilizer biotechnology company. Co-founded in 2014, Aqua-Yield® has introduced the "smallest innovation in agricultural history". Aqua-Yield's® technologies deliver materials directly to the plant's cells leading to a much higher overall efficiency. Aqua-Yield's® process introduces liquid nanotechnology to agriculture leading to significant advantages for the grower. Results of the company's unique technologies include; higher yields, lower cost inputs, shorter crop cycles, less environmental impact and an increase in nutrient impact. To learn more visit www.aquayield.com
Featured Product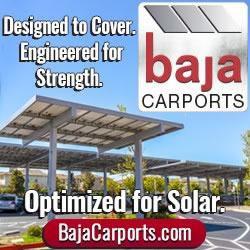 Baja Carports offers an extensive solar support system product line customized to customers' site specifications by in-house engineers, meeting their parking lot coverage, plus optimal PV production needs. Baja's Full Cantilever Tee is often paired with its Semi and Full Cantilever carports to meet live/loads up to 60psf and wind speeds to 160mph. All Baja products are pre-fabricated, bolted connections, pre-galvanized structural steel for fast on-site installation and project aesthetic requirements.