Horticultural Leader Secures Second Heliospectra Order for New England Cannabis Cultivation Facility
GOTHENBURG, Sweden and SAN FRANCISCO, April 5, 2018 /PRNewswire/ --

Heliospectra AB (publ) (OTCQB: HLSPY)  (FIRSTNORTH: HELIO), a world leader in intelligent lighting technology for greenhouse and controlled plant growth environments, announces a second order from their value-added reseller Griffin Greenhouse Supplies for the E60 C plate full-spectrum series LED grow lights. The order value is SEK 4.6 million (USD $549,000). Delivery will take place and be visible in the accounts in Q3 2018.
"Heliospectra appreciates the opportunity to partner with Griffin. Their team continues to build strong, trusted relationships with customers and commercial growers across North America," said Ali Ahmadian, CEO of Heliospectra. "We look forward to collaborating with Griffin and this New England facility to ensure highest crop quality and performance using Heliospectra's proven and durable LED lighting technology."
The Heliospectra E60-series with a C-Plate have an optimized spectrum developed for flowering plants and the ability to accelerate harvest. The technology have been developed together with leading commercial food and cannabis growers, to give growers a consistent production year-round and a superior crop quality.
Featured Product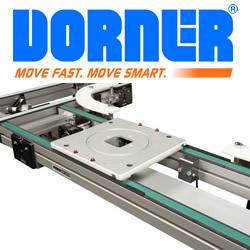 Dorner's 2200 Series Precision Move Pallet Systems feature the latest advancements in pallet traffic management. A unique pin tracking system guides pallets through merges and curves while maintaining product orientation. The fast belt change capability increases efficiency and reduces downtime in assembly automation processes. They are available in lengths up to 25 ft., can handle loads up to 500 lbs. and travel at speeds up to 114 ft/min.