Teralytics soil sensors monitors soil quality to maximize crop yields and reduce over fertilization
New York, NY (AgPR) March 28, 2018 — Semtech Corporation (Nasdaq:SMTC), a leading supplier of high performance analog and mixed-signal semiconductors and advanced algorithms, announced that Teralytic, a manufacturer of wireless soil sensors, implemented LoRa® devices and wireless radio frequency technology (LoRa Technology) in its wireless sensor to detect nitrogen, phosphate and potassium (NPK) levels in soil to help farmers reduce waste and to improve crop yields.

According to recent reports, between 70% and 80% of agricultural greenhouse-gas emissions, such as nitrous oxide, come from the production and use of nitrogen fertilizers. Farmers need real-time visibility into soil conditions while working in their fields. During growing season, manual soil tests fail to provide the data growers need and this can cause farmers to either over fertilize or under fertilize, harming profits and/or the environment. The Teralytic sensor is a battery-powered, meter long device that farmers stick into the ground. Packed inside are 26 different sensors that measure the surrounding soils NPK levels, pH levels, soil moisture, temperature, and aeration, as well as the temperature and humidity above ground.
"Lack of soil data during growing season lowers yields and profits as well as harms the environment. Farmers want a solution that allows them to maximize their profits," said Steve Ridder, CEO and founder of Teralytic. "With Semtechs LoRa Technology, were able to provide a sensor that is low cost, long-range and low power, which is essential for smart agriculture solutions."
"Teralytic provides farmers with real-time data so they are more efficient with their fertilizer and generate better crop yields," said Vivek Mohan, Director, Wireless and Sensing Products Group at Semtech. "Teralytic LoRa-based solution is empowering farmers to leverage low cost, low power technology that enables them to improve peoples daily lives and create a smarter planet."
Teralytic launched its LoRa-enabled NPK soil sensor at the recent World Agri-Tech Innovation Summit in San Francisco on March 20, 2018.
About Semtechs LoRa® Devices and Wireless RF Technology
Semtechs LoRa devices and wireless radio frequency technology is a widely adopted long-range, low-power solution for IoT that gives telecom companies, IoT application makers and system integrators the feature set necessary to deploy low-cost, interoperable IoT networks, gateways, sensors, module products, and IoT services worldwide. IoT networks based on the LoRaWAN™ specification have been deployed in over 45 countries and Semtech is a founding member of the LoRa Alliance™, the fastest growing IoT Alliance for Low Power Wide Area Network applications. To learn more about how LoRa enables IoT, visit Semtechs LoRa site and join the LoRa Community to access free training as well as an online industry catalog showcasing the products you need for building your ideal IoT application.
About Teralytic
Teralytic provides one of the first wireless NPK (nitrogen, phosphate and potassium) soil sensors for farmers to maximize their profits. Get the most detailed soil quality data available, via a single probe with 23 sensors reporting soil moisture, salinity, aeration, respiration, NPK, air temperature, and humidity - at three different depths. For more information visit www.teralytic.com.
About Semtech
Semtech Corporation is a leading supplier of high performance analog and mixed-signal semiconductors and advanced algorithms for high-end consumer, enterprise computing, communications, and industrial equipment. Products are designed to benefit the engineering community as well as the global community. The Company is dedicated to reducing the impact it, and its products, have on the environment. Internal green programs seek to reduce waste through material and manufacturing control, use of green technology and designing for resource reduction. Publicly traded since 1967, Semtech is listed on the Nasdaq Global Select Market under the symbol SMTC. For more information, visit www.semtech.com.
Featured Product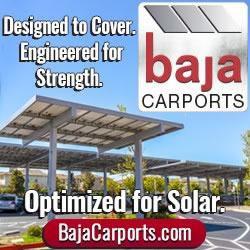 Baja Carports offers an extensive solar support system product line customized to customers' site specifications by in-house engineers, meeting their parking lot coverage, plus optimal PV production needs. Baja's Full Cantilever Tee is often paired with its Semi and Full Cantilever carports to meet live/loads up to 60psf and wind speeds to 160mph. All Baja products are pre-fabricated, bolted connections, pre-galvanized structural steel for fast on-site installation and project aesthetic requirements.