Indoor Farms of America is pleased to announce that it has recently filled several key roles at the company as the company client base expands into specific areas of need which its unique equipment can address.
LAS VEGAS, Oct. 18, 2017 /PRNewswire/ -- Indoor Farms of America is pleased to announce that it has recently filled several key roles at the company as the company client base expands into specific areas of need which its unique equipment can address.

Company CEO David Martin stated, "As 2017 has progressed, it was clear with the level of potential farm owners and operators we are working with that we needed to take our internal operations to a next level, and we are doing that by bringing on board some very solid folks."
Martin continued, "We are really focused on continued research into how we can push our equipment to grow plants to unlock the highest nutritional value possible, with the most purity. That, coupled with working on adjusting flavor profiles in crops we can grow, and continuing to increase the variety of crops we can grow at commercial scale, such as proteins, is where our interests are focused."
As such, the company has hired two key people: Jake Arterbury, who will work in the role of Crop Scientist and Staff Biologist. "Jake will work on all areas of testing crops grown in our patented aeroponic system, and we are delighted to have him on board. Jake is a graduate of Baylor University with a strong emphasis on field research and plant physiology, and he is a great addition to our team."
In addition, the company has hired a world class Five Star Executive Chef in Georg Paulussen, for the position of Global Director of Culinary Operations.
"Some folks wonder why would an indoor farming company need an Executive Chef? Well, when I met Georg, and I realized his passion for nutrition and he told me his vision for feeding people around the world healthier food which they can have immediate access to, I knew he was the perfect fit for Indoor Farms of America," stated Martin.
"Georg has worked literally around the globe for over 35 years as either the Executive Chef, or as the Director of Food and Beverage, for the leading five star resort companies of the world, the very best. His desire to be the best in his field took him to places where he witnessed countless people that are not nourished properly in day to day living."
Chef Georg Paulussen states it this way, "When I met with Dave initially, I thought, wow, this equipment is pretty cool stuff, as it grows so many plant varieties so beautifully, with such great taste. But when we connected on the level of nutrition and education, and how Indoor Farms of America has as a broader mission to reach people around the world who need it most, I knew this was a place I could have a positive impact and help the company achieve its goals."
"My working environments have always provided me with such passion, my work is my love as a chef, but now I want to focus on nutritional aspects for helping the most people, and this company has the correct plan for that," added Mr. Paulussen.
CEO Martin adds, "Both Jake and Georg will work on special projects alongside our Corporate Farm Manager, Anthony Randolph. Our initial sessions together have been incredible, and we are excited to have them on our team."
Chef Georg will also work directly with chefs and major hotels from around the world to educate them on how they can have an abundant and cost effective supply of fresh-harvested vegetables every day for their needs in restaurants anywhere they are. On the nutrition side, the focus is how hospitals and governments can bring immediate access to high quality foods, such as for patients in various levels of recovery.
Indoor Farms of America President Ron Evans sees it changing the landscape for access to fresh foods: "We have watched several companies make claims that are simply funny, in this growing area of indoor agriculture. One thing we know, if you are going to grow crops indoors, you simply must do it in far higher quantity to make it a success financially. If a growing system at the end of the day will not produce enough product to ensure it can be a financial model that will sustain, then it is a waste of time. That was our original vision, and now we can take our game even further beyond anyone in the industry with these new folks on our team."
Chef Georg will be available this week at the PMA Fresh Summit in New Orleans. "Stop by our booth for a visit if you are at the show, and let's talk fresh, and let's talk nutrition!" states Martin
Indoor Farms of America has a showroom with demonstration farms operating in Las Vegas, Nevada and in multiple locations in Canada, and in South Africa, where their patented vertical aeroponic equipment is on display.
Featured Product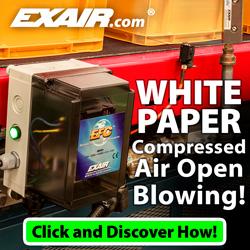 Compressed air is a limited resource that is generated in-house for the benefit of many operations within the manufacturing environment. Learn how to ensure all point of use applications are using your compressed air in the most effective and efficient way possible. Learn how much it costs to produce that compressed air and how Engineered Nozzles can help you use your air more effectively and efficiently.