President John Taylor stated, "This is the start of many milestones to come in our product line beyond advanced greenhouses.
SACRAMENTO, Calif., Aug. 17, 2017 /PRNewswire/ -- Zerez Holdings Corporation, (OTC PINK: ZRZH), DBA Smart Cannabis, http://smartcannabis.com announced today the first field deployment and early production use of its Smart By Design™ advanced greenhouse monitoring and automation system.

President John Taylor stated, "This is the start of many milestones to come in our product line beyond advanced greenhouses. There are several generalized remote monitoring systems on the market, however, none are designed from the ground up to integrate and monitor all of the critical components installed in our advanced greenhouse systems, all of which typically house several hundred thousand dollars of potential crop revenue at a given time. The failure of any one system can be catastrophic and that is unacceptable. The trend in cannabis and agriculture cultivation is quickly transitioning to business people that have multiple locations, many of which are hours apart and often located in areas that do not have reliable internet or cellular service. Our system works over traditional internet, satellite, and high speed cellular connections today, but we are also testing advanced long range systems for extremely remote locations, all of which have an immediate need to manage their investments."
According to Vice President Don Smith, "We have years of experience in control systems and video technologies. We took a hard look at the companies offering remote monitoring, and came to the business conclusion that we need our own system so our company can offer clients a complete one stop turnkey package. Rather than white label some generic solution, we hired the best programmers and are writing our own software. Integrating cameras, fans, sprinklers and other traditional controllers is easy. We are literally talking about rocket science - the ability to get high speed encrypted internet in extremely remote areas, integrate "industry specific" components, and offer unprecedented security systems with laser fields, laser plant tagging, and Bluetooth soil probes that measure everything from sunlight to PH levels. We are also exploring a subscription service offering that includes expert staff botanists who analyze readings, remotely diagnose the problem and remotely change practically any part of the cultivation environment anywhere on the planet."
Smith added, "According to research reports by markets and markets, the global remote monitoring market is forecasted at $27.11 Billion by 2023, with approximately $12.9 Billion coming from agriculture monitoring systems. These estimates are not part of the global forecast for smart agriculture and greenhouse systems which is estimated by "The Connected Farm Report" at 26.8 Billion by 2020.
The company will provide additional updates including case studies in the near future.
About Zerez Holdings Corporation, DBA Smart Cannabis
Zerez Holdings Corporation, (OTC PINK: ZRZH) DBA Smart Cannabis is a public equity corporation focused on the advanced agriculture and cannabis industries with plans to grow through acquisition, strategic alliances, and proprietary intellectual property. The company's wholly owned subsidiary Next Generation Farming Inc. provides turnkey commercial SMART greenhouse and automation systems that improve yields and decrease water consumption for cultivators of organic food and cannabis crops. The company's websites are http://zerezholdings.com, http://nextgen.farm and http://smartcannabis.com.
Disclaimer: The Company relies upon the Safe Harbor Laws of 1933, 1934 and 1995 for all public news releases. The company may make statements, which are not historical facts, and may be forward-looking statements. Any forward-looking statements reflect the company's best judgment based upon current information. Investments involve risks and uncertainties, and there can be no assurance that other factors will not affect the accuracy of forward-looking statements. It is impossible to identify all factors... Factors which could cause actual results to differ materially from those estimated by the company include, but are not limited to, government regulation; managing and maintaining growth; the effect of adverse publicity; litigation; competition; and other factors which may be identified from time to time in the company's press releases and announcements.
Contact: Zerez Holdings Corporation, Don Smith, Vice President, (424) 732-7646 email: ir@zerezholdings.com
Featured Product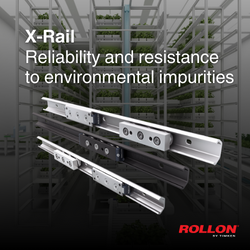 Rollon's X-Rail linear rails are a reliable solution in environments susceptible to impurities. Equipped with rolling elements with shaped and flat raceways, they are available in several versions: galvanized, nitrided or stainless-steel sheet metal. The latter version ensures total corrosion resistance, which is critical for hostile environments such as those found in vertical farming. Particularly innovative is the T + U configuration of the X-Rail linear rails, which can compensate for the parallelism errors of mounting surfaces. This simplifies installation and reduces costs.