Commercial UAV Expo Europe debuts successfully!
BRUSSELS, BELGUIM (PRWEB) JUNE 26, 2017
From 20-22 June, the SQUARE Brussels Exhibition Centre in Brussels, Belgium, was the scene of Commercial UAV Expo Europe, the trade fair and conference on the integration of drones for major industrial & commercial applications. The Expo was the very first truly pan-European drone event. It counted over 500 visitors from 50 different countries and 52 exhibiting companies which presented the most exciting drone innovations. During the Expo, an international jury of drone professionals selected and presented the "Drone Hero" awards to the most creative drone innovations. The Belgian Defence Minister Steven Vandeput handed over the awards to the winners Thursday afternoon.
Lisa Murray, Director of Commercial UAV Expo Europe, about the Expo: "In launching Commercial UAV Expo Europe, we brought together the commercial drone ecosystem from throughout Europe to advance this ground-breaking technology. As the Expo counted visitors from 50 different countries we succeeded to create a truly pan-European forum. From education and exhibits to networking and a Drone Hero contest celebrating drone innovation, it was all there in one place."
Steven Vandeput, about the drone industry in Belgium and Europe: "There still needs to be done a lot of work regarding the regulation of drones in Europe. As it is a rapidly evolving industry, it is key for our country to have these regulations in place as soon as possible and to continuously invest in research and innovation via the triple helix model, in which universities, industry and government intensively collaborate."
Stunning innovations from real drone heroes
The Drone Hero awards, which represent a cooperation between the European drone cluster EUKA and Commercial UAV Expo Europe, were handed over yesterday afternoon by Minister Vandeput, to 5 stunning innovations. The winners get an all-access pass and/or an exhibit space in Las Vegas at Commercial UAV Expo Americas, from 24-26 October 2017.
High potential drone hero
The high potential drone hero is Drone Radar (Pawel Korzec, Poland). The aim of the DroneRadar is to vastly improve airspace safety by providing a simple, available to all solution to performing, monitoring and integrating UAV operations with the manned aviation flow in European airspace. A rapidly growing number of Unmanned Aerial Vehicle operations have caused major concern over flight safety. Air Traffic Management institutions, like ATC, FIS are finding it difficult to track such operations as the majority of those are conducted by amateurs with no aviation background and little or no knowledge of both airspace structures and flight rules. Up to now there has been no means or concept of integrating such operations into the mainstream ATM flow, which would allow for creating awareness of them and their monitoring. DroneRadar is the first, ANSP integrated system platform allowing for such integration. DroneRadar is a non-restrictive, mobile, cloud based platform which allows the precise registration and monitoring of drone operations via social sourced information. The system is based on simple concepts easily understood by amateurs but at the same time provides sophisticated functionality for Air Traffic Services and for professional users such as military and governmental institutions. Clearly, DroneRadar is a solution many UAV operators and ATM institutions have been waiting for and has enormous potential for structuring procedures needed to integrate UAV operations into the ATM flow. Detailed analyses of the collected statistics, may be used for risk assessment, and may be a great input for SMS (Safety Management System) analyses. DroneRadar confront all regulations which apply to FIR and present them in easy to understand way, to all users (professionals and amateurs). DroneRadar is fully operational in Poland since December 2015.
Creative drone hero
The most creative drone hero is Mine Kafon Drone Project (The Netherlands). Using current technologies, clearing or even detecting all land mines across the entire world would take over 1100 years. The established processes are slow, dangerous, expensive, and completely unacceptable if we want to solve the problem in our lifetime. Growing up on the edge of Kabul in a little town called Qasaba in Afghanistan, Massoud and Mahmud Hassani, the brothers behind the Mine Kafon Drone project, currently living in The Netherlands, experienced the horrors of land mines from an early age. These experiences fuelled older brother Massoud to develop a solution for a safe and smart solution to detect and clear land mines. Massoud and Mahmud Hassani stunned the world in 2012 with Mine Kafon, a wind powered anti land mine ball looking like a dandelion The Mine Kafon is approximately the height and weight of an average man, allowing it to trigger landmines as it rolls over them using the power of the wind. After three years of work, the team is ready to present the Mine Kafon Drone: an unmanned airborne demining system that uses a three step process to map, detect and detonate land mines. The Mine Kafon Drone, an airborne demining system developed to clear all land mines around the world in less than 10 years
Innovative drone hero
The most innovative drone hero became the Voliro hexacopter which has been developed, assembled and programmed as a student project of Cliff Li at ETH Zurich (Switzerland). It has the unique capability of being able to hover in any arbitrary orientation, even vertically or upside down. Unlike standard multicopters, the position and the orientation are completely decoupled and can be steered independently. This is achieved by six additional tilting motors which allow the rotor units to turn around its axes. The Voliro hexacopter is a platform which expands the potential of conventional drones and allows many future applications. As it can fly vertically, it could also drive with a chassis on a wall and perform tasks like bridge inspection or creating paintings on the wall. Voliro is a student project which started one year ago at ETH Zurich. 11 bachelor students - mechanical and electrical engineers, industrial designers - developed, assembled and programmed a completely new hexacopter. It can tilt the motors around its axes which gives it the ability to completely decouple its position and orientation and perform acrobatic maneuvers in the air.
Start-up drone hero
The most promising start-up drone hero is Vectrino (Jelena Petković, Croatia).
In recent years, mosquitoes represent a growing health threat because their vector potential increases and new cases of mosquitoes carry diseases are constantly evolving. Therefore, their systematic suppression is governed by legislation. So far, conventional methods of treatment mosquitoes have numerous defects: non-selective application of insecticides, vegetation and weather opportunities which have a major impact on the (un)successful treatment, difficulty treating hard accessible areas and others. This is why a group of authors designed a new way of larviciding with unmanned aerial vehicles (drones) using edge spectra of visible red light (NIR) to clearly notice the places where mosquitoes breed. By locating those places, automatic calculation of area and volume of water it is possible to automate the drones to independently perform larvicidal treatment dosing exactly the optimal amount of larvicide only where such treatment is necessary. Vectrino Ltd. is a dynamic company that creatively uses the latest advanced technology combined with knowledge/experience from specific areas and activities in achieving various business goals: analysis, monitoring, maintenance and planning. The company owns and, if necessary, obtains all necessary permits, while respecting the current regulations, requirements and laws of the Republic of Croatia.
International drone hero
Ampyx Power (Richard Ruiterkamp, The Netherlands) is awarded as international drone hero. The Ampyx Power Airborne Wind Energy System can generate cost-effective power and has minimal impact on the environment as it comprises less than a tenth of the material than a wind turbine with the same capacity. In the future we can provide abundant renewable energy at cost levels below any other methods of electricity generation. The system consists of an autonomous aircraft, a drone, tethered to a generator on the ground. Wind drives the tethered aircraft at an altitude of 450 m. Tensile force causes the tether to be reeled out from a winch. Once the tether is reeled out to a predefined length, the aircraft automatically descends towards the ground causing the tether to reel in. Then is ascends and repeats the process. The aircraft utilizes a vast array of sensor suites which provide the autopilot with critical information to perform the task safely.
Public award
The public award went to Guy Verhoeven (Belgium). He is the founder of Skycan, a fast growing Belgian drone-company. He worked for 23 years in a hospital before he became a licensed drone-pilot. Hes not nursing anymore but, even in the drone-business, he never stops trying to help. Everyday a person gets lost. What if it is someone you love? Guy searched for a company that builds drones (GL) for search and rescue. He found the perfect thermal-fusion camera, specially build for drones and works together with Idronect (a drone platform that will allow rescue services to create an online scenario in minutes). Now Guy wants to realize his project:
-Working with different rescue-services.
-Finding pilots who wil learn to fly with the 'Salvator-drone.
-Have different drones spread across the country so help can get there fast. Every minute is important.
-Installing a tracking system for "Salavator" that will allow rescue teams track exactly where the drone is… in real time.
-Installing the best solution for the rescue teams to see the drones camera in real time. The more eyes the better.
For more pictures and footage of the European Drone Heroes, please visit: https://www.dronecommunity.biz/drone-hero-europe/
About Commercial UAV Expo Europe
Commercial UAV Expo Europe, presented by Commercial UAV News, is a conference and exhibition exclusively focused on the commercial drone market in Europe covering industries including Surveying & Mapping; Civil Infrastructure; Aggregates & Mining; Construction; Process, Power & Utilities; Precision Agriculture; Law Enforcement, Emergency Response and Search & Rescue (SAR). The next edition will take place at the SQUARE in Brussels 11-13 June 2018.
Featured Product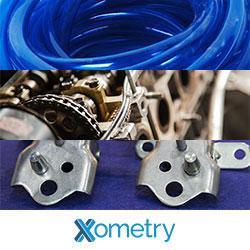 Xometry is your source for custom parts. Now, in addition to getting instant quotes on 3D Printing, CNC Machining, Sheet Metal, and Injection Molding, customers can create and send RFQs for die casting, stamping, and extrusion work to our nationwide network of pre-vetted manufacturers with just a 2D drawing. You will receive and be able to review responses from qualified shops within 7 days on an advanced web-based RFQ management platform. To learn more go directly to our site to issue and RFQ today. Stop wasting time managing RFQs through email and by phone, and start issuing RFQs at scale and in the cloud.