The global Agriculture Drones market was valued at $435.5 million in 2017 and is anticipated to grow at a CAGR of 38.6% during the forecast period.
According to a new report published by Polaris Market Research, the worldwide Agriculture Drones market is anticipated to reach around USD 8,019.8 million by 2026. In 2017, the field mapping segment dominated the global market, in terms of revenue. North America is expected to be the leading contributor to the global market in 2017.

There has been an increasing adoption of agricultural drones across the world owing to growing agricultural industry, and high-demand for high quality food crops. The growing use of drones for crop health monitoring, weed detection, variable rate application, crop scouting, and livestock management supports the agriculture drones market growth.
The growing population and increasing automation of farm operations further supports agriculture drones market growth. The global agricultural drones market is driven by the increasing need to improve the quality of crops produced, maximize crop production, and enhance productivity.
Other factors driving the growth of this market include growth in the global agricultural industry, reducing availability of labors, and increasing labor costs. However, safety, security, and privacy concerns restrict the growth of the agricultural drones market. Growing demand from emerging economies, and technological advancements are factors expected to provide numerous growth opportunities in the coming years.
Featured Product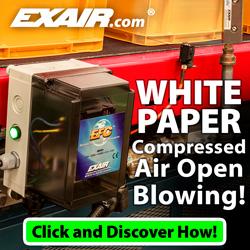 Why is compressed air safety a concern? How Cabinet Coolers Can End Costly Shutdowns A low cost, reliable way to cool and purge electronic control panels. EXAIR Cabinet Coolers incorporate a vortex tube to produce cold air from compressed air - with no moving parts. NEMA 12, 4, and 4X Cabinet Coolers that match the NEMA rating of the enclosure are available in many cooling capacities for large and small control panels. Cabinet Coolers convert an ordinary supply of compressed air into clean, cold 20ÂşF air. Learn more about Cabinet Coolers in EXAIR's white paper "How EXAIR Cabinet Coolers Can End Costly Shutdowns". http://www.exair.com/184/Cab_Coolers_MTOM.htm