Sensoterras LoRa-enabled sensors reduce up to 30% of water usage in soil irrigation for commercial farms
Semtech Corporation (Nasdaq: SMTC), a leading supplier of high performance analog and mixed-signal semiconductors and advanced algorithms, announced that Sensoterra, a leading technology company, offering low-cost, wireless solutions for real time soil moisture measurement for commercial farms, leveraged Semtechs LoRa® devices and wireless radio frequency technology (LoRa Technology) and Senets LoRaWAN-based network into its smart agriculture systems to reduce up to 30% of water usage in commercial farms including potato and almond orchards.

As water becomes more scarce in many parts of the world, Sensoterras LoRa-based solutions allow farmers to manage their irrigation systems more efficiently," saidJurriaan Ruys, CEO of Sensoterra. "Todays sensors must be low cost, easy to install and last for long periods of time in the field. These characteristics will allow growers to scale their deployments and benefit from true operational visibility. Semtechs LoRa Technology and Senets LoRaWAN™-based network achieves all of these attributes."
Sensoterra is a low-cost, wireless and remote system that offers farmers real-time insight into the soil moisture condition of their crops. Soil is not homogenous and it holds moisture differently in various areas. The company utilizes LoRa-enabled sensors in its probes and a LoRaWAN infrastructure provided by Senet, a leading provider of global connectivity and IoT network service provider. Sensoterra primarily focuses on the North American and European agriculture markets and has deployed over 4,000 sensors and achieved 720,000 data points to date. Sensoterras solutions are now being deployed in Australia, South America and other parts of the world.
"Since announcing our partnership over a year ago, Sensoterra has proven the value of Semtechs LoRa Technology and low-cost, long-range LoRaWAN-based connectivity can deliver to the agriculture market," said Bruce Chatterley, CEO at Senet. "We look forward to building on these successes as both Sensoterra and Senet expand our solution deployments and connectivity offerings globally."
"Internet of Things (IoT) technologies continue to transform agriculture and with Semtechs LoRa Technology, farmers can readily and easily deploy IoT solutions that grow their business as well as improve their crops," said Alistair Fulton, Vice President of Product Management in Semtechs Wireless and Sensing Products Group. "LoRa Technology has a proven track record of enabling efficiencies which reduce environmental impact, maximize yield and minimize expenses. LoRa-based smart agriculture use cases have demonstrated significant and impactful improvements."
Visit Semtech at the LoRa Alliance booth, South Hall, 2524, at Mobile World Congress Americas to learn more about LoRa Technology. Read more about the Sensoterras LoRa-based solution here. (https://www.semtech.com/lora/lora-applications/smart-agriculture)
About Semtechs LoRa® Devices and Wireless RF Technology
Semtechs LoRa devices and wireless radio frequency technology is a widely adopted long-range, low-power solution for IoT that gives telecom companies, IoT application makers and system integrators the feature set necessary to deploy low-cost, interoperable IoT networks, gateways, sensors, module products, and IoT services worldwide. IoT networks based on the LoRaWAN™ specification have been deployed in over 100 countries and Semtech is a founding member of the LoRa Alliance™, the fastest growing IoT Alliance for Low Power Wide Area Network applications. To learn more about how LoRa enables IoT, visit Semtechs LoRa site and join the LoRa Community to access free training as well as an online industry catalog showcasing the products you need for building your ideal IoT application.
About Sensoterra
Sensoterra has developed a wireless, self-sustaining, low-cost system to measure soil moisture in real-time. Sensoterra is purpose built to operate on LoRaWAN infrastructure and capable of meeting the most demanding customer specifications at the lowest possible total cost of ownership. For more information, visit www.sensoterra.com.
About Senet, Inc.
A founding and contributing member of the LoRa Alliance, Senet is the leader in global Internet of Things (IoT) connectivity used to instrument the physical world and enable businesses to revolutionize their operations. With core values centered around changing the world for the better, Senet is committed to promoting IoT Network and Network Management innovation, and supports an open partner ecosystem to ensure that IoT realizes its full potential of delivering economic, environmental, and social improvements. Senet is dedicated to supporting the LoRaWAN protocol as the open global standard for secure, carrier-grade Low Power Wide Area (LPWA) connectivity for IoT solutions across all industries. For additional information, visit www.senetco.com.
About Semtech
Semtech Corporation is a leading supplier of high performance analog and mixed-signal semiconductors and advanced algorithms for high-end consumer, enterprise computing, communications, and industrial equipment. Products are designed to benefit the engineering community as well as the global community. The Company is dedicated to reducing the impact it, and its products, have on the environment. Internal green programs seek to reduce waste through material and manufacturing control, use of green technology and designing for resource reduction. Publicly traded since 1967, Semtech is listed on the Nasdaq Global Select Market under the symbol SMTC. For more information, visit www.semtech.com.
Featured Product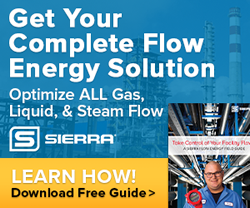 Download Flow Energy Guide - Written by Engineers For Engineers. Learn how to save on energy costs by optimizing your facility flows that impact costs like compressed air, natural gas, steam, and hot or chilled water.