if health and safety is paramount in your workplace, your workers will know, and this will affect their work. They will feel secure, will feel part of a team that is cared about (as opposed to being a simple commodity), and you will also be able to attract the best staff.
How More Stringent Health and Safety Policies in Agriculture Can Improve Output
Holly Shaw | Effective Software
Agriculture affects all of us. In an urbanized, hypermodern world agriculture is still the single biggest employer, and, for those that do not work in the industry, it is important as a supplier of their food and other essentials. Therefore, most of us have an interest in maintaining an efficient and effective agricultural sector. However, agriculture has also been traditionally one for the most dangerous sectors to work in, and below we will discuss how more stringent health and safety policies can be good for the industry, and therefore for us all.
Your workers will feel more valued, and they will work harder
One of the most important things for any business is its bottom line. Perversely, some leaders may feel that cutting costs, including potentially on health and safety improvements, will reduce expenditure and therefore increase profits. However, all of the research, not speaking of the morality of this action, suggests that this would be a false economy. This is because, if health and safety is paramount in your workplace, your workers will know, and this will affect their work. They will feel secure, will feel part of a team that is cared about (as opposed to being a simple commodity), and you will also be able to attract the best staff. All of these things mean increased productivity, and greater profits, in spite of the greater initial outlay.
"Directors must have an understanding of the role safety performance plays in the performance of their business. In accepting corporate responsibility for health and safety, directors need to be proactive in developing a positive safety culture for their workplace. In the long-term this leads to an internal cultural shift that can have an indirect impact on external brand affinity and brand loyalty." according to David Rowland, Head of Marketing at Effective Software
You will lose fewer work days to injury and accidents
The statistics are quite startling. We have already mentioned that agriculture is the most dangerous industry, but this doesn't prepare for the reality. 417 Farmers died in the US in 2017, with leading cause being transportation, including tractor overturns.This could be solved by simply using a Roll-0ver Protective Structure. Every day, 100 agricultural workers are injured in a way that necessitated time off. In particular danger were younger farm workers. All of these things will mean increased lost workdays, which will affect your profits, productivity and the moral of your staff. Simple fixes such as the ROPS can help this. Put them in place and you can drastically reduce worker injury.
The machinery is only the tip of the iceberg
Transport is the biggest killer in agriculture, with the majority of deaths being caused by tractor overturn and other such accidents. However, this is just the tip of the iceberg. To maintain the confidence of your workers and consumers, you must also take account of other things, for example the use of pesticides, which can be a health and safety concern for your workers and for others as well, as concerns like this can spread to the wider population. One authority says that we should look out for key things such as;
Make sure your staff wear the right safety gear
If something is going on in your workplace, take note and take action
Another common cause of accidents is livestock tramplings. Take simple steps such as issuing steel toed boots.
Consumer confidence is key
If you have a good record for health and safety, your consumers will know, and vice versa. Also, you must remember that some health and safety violations can affect consumers, and therefore stop them buying your products. One important area is the use of chemicals. For example, some chemicals and pesticides may, if used on your produce, have impacts for the health of the consumer, with obvious implications for your business. For example, some chemicals such as Glyphosate, which is considered a "probable carcinogen" by the WHO, has previously been considered safe. Likewise, be aware of research that has been funded by the manufacturers of the chemical. In short, try and be ahead of the curve in relation to Health and Safety in work, and consumer confidence, with the obvious benefits, will follow.
Farms today do not just admit workers
It has become increasingly common for farms to become multifunctional: for example, as well as being producers, farms are increasingly becoming mini pettings zoos. This means that health and safety becomes even more important. Ensure, for example, that you have adequate fencing and barriers between visitors and the animals, and make sure there are enough hand washing stations. Any lapse in standards here can have massive implications on consumer confidence
If you take account of the above advice, your business will be on the right path to more stringent health and safety policy, which can only have a positive effect on your business.
The content & opinions in this article are the author's and do not necessarily represent the views of AgriTechTomorrow
---
Comments (0)
This post does not have any comments. Be the first to leave a comment below.
---
Post A Comment
You must be logged in before you can post a comment. Login now.
Featured Product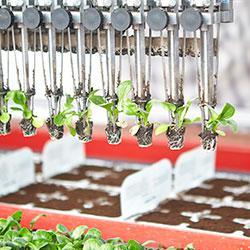 "Smart farming" is an important part of the answer to this existential question: Extremely high efficiency in food production through the targeted use of the latest technology, computer-supported and - where possible - fully automatic. Seeds are individually and precisely placed; fruits carefully picked by mechanical grippers; fertilizers and plant protection products applied in small doses and in a targeted manner. These operations require a large number of small electric motors that are both robust and powerful.